Broekhuis, Keller en Schönwälder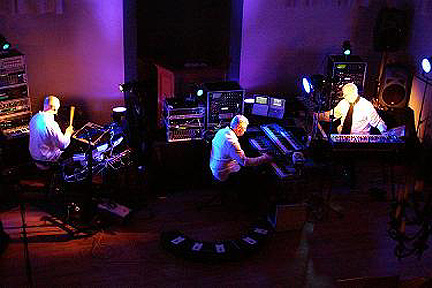 Broekhuis, Keller en Schönwälder
This great trio consisting of the Dutch rhythm designer Bas Broekhuis (1963), The German harmonics designer Detlef Keller (1959) and the sound designer Mario Schönwälder (1960) from Berlin.
Since September '94 these three man can frequently be found on stage. Concerts in the USA, France, Belgium, Luxemburg, the UK, Polen, the Netherlands, Italy and Germany are already on their list.
They also released 25 CD's albums sofar.
What makes BK&S so special? Well, that must be their common musical taste and the synchronization within and their deep friendship that connects them over the hundreds of kilometers that they live apart.
BK&S always have a lot of fun with all their musical adventures. Those who have had the opportunity to have met them back stage, knows what is mend here.
Broekhuis and Keller do both have a technical background and developing new, changing or repairing their instruments and all other things that involves soldering.
Schönwälder is the organizational mind and is taking care of CD releases, concert planning and the so beloved bookkeeping.
That's what gives BK&S their solid base.
BK&S is Electronic Music, ...and more, ....much more.
They have a great you tube channel where you can find lots of clips of their concert.
Here is one.